Worship In-Person
With Us!
Greetings in the name of our risen Lord and Savior, Jesus Christ, Son of the Living God. We have resumed worshiping in person! You can attend worship in our sanctuary, at 11am. In an effort to protect our church family, everyone is required to wear a mask at worship. This policy may or may not change at short notice based on changing CDC and ODOH guidelines.
If you cannot worship with us in person for any reason, please continue to worship with us virtually, by clicking here. The bulletin for this week's worship can be found on our info page so you can follow along.
In person worship is strictly for those who comfortable doing so. We will be wearing masks, socially distancing, and hand sanitizing. Please stay safe. Don't take chances; this is not over yet, and Jesus wants all of us to not just survive, but to thrive and be alive with our faith and roles in proclaiming the Kingdom in this world.
Holiday Meal Baskets
We are collecting items for the Pickerington Food Pantry to assemble into Holiday Meal baskets for anyone in the Pickerington School District. These baskets will supply families with food for both Thanksgiving AND Christmas. Please look to the right for the list of items needed.
The items will be collected at the church, until November 2nd. You can also help by donating your time to take the items collected, to the food pantry, or by helping to assemble and/or distribute baskets on November 14th. Individual items or whole basket donations are appreciated. Gift cards can be given to Bonnie DuMond, or Elaine (in the office). You can also drop them off at the food pantry (70 Cross Street, Pickerington), in the small slot near the door. Thanks for any and all help in this cause!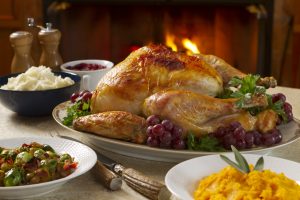 Items needed:
$30 Grocery Store gift card for meat and desserts.
2 boxes instant mashed potatoes
2 bags/boxes stuffing mix
2 packs/ jars/cans gravy
2 cans cranberries
2 cans sweet potatoes/yams
8 cans vegetables
A Statement from the ELCA
"The ELCA's social policy resolution, "Condemnation of White Supremacy and Racist Rhetoric," adopted by the 2019 ELCA Churchwide Assembly, states: "As persons called to love one another as God has loved us, we therefore proclaim our commitment to speak with one voice against racism and white supremacy. We stand with those who are targets of racist ideologies and actions." As church, together we must work to condemn white supremacy in all forms and recommit ourselves to confront and exorcize the sins of injustice, racism and white supremacy in church and society and within ourselves as individuals and households."
As stated on the ELCA's website. Click HERE for more information.
The mission of Grace Evangelical Lutheran Church is to live the Gospel of Jesus Christ and share God's good news with others with an emphasis on youth and families.

Verse of the Day
"Praise be to the God and Father of our Lord Jesus Christ, the Father of compassion and the God of all comfort, who comforts us in all our troubles, so that we can comfort those in any trouble with the comfort we ourselves have received from God."
EMAIL
office@gracecolumbus.com
ADDRESS
8950 Refugee Road, Pickerington, OH 43147
: