Worship With Us!
Greetings in the name of our risen Lord and Savior, Jesus Christ, Son of the Living God. As we continue living the current way, we will gather together as community of faith, while protecting the health of everyone. For this reason, services can be found every Sunday morning at 10am as well as Wednesday evenings at 7pm, using Facebook. It is not necessary to have a Facebook account to access these videos and once they have been posted, you can watch them any time. It is not necessary to watch them live. Finally, Pastor Heinz has been posting, brief daily videos between 12:0pm and 1pm. All of these can be viewed by going clicking here! We invite everyone to join us!
Words from Pastor Heinz: Churches are not closed! We moved, we improvised, we adapted, and we remained relevant to the needs of our people in different ways. People of faith (aka followers of Jesus,) have a long tradition of this. Early churches took cover from persecution. they met in secret and came out into the open when it was safe. Faithful of all generations have uprooted their lives and families and moved to be able to practice their faith. The entire reason for the "home church" concept of the past was driven by faithful folks who were forced to meet in their homes to survive.
And they survived… please note that every time the people of God went into cover to survive, they came out with new, more vital, and more relevant ways to be faithful servants of Jesus Christ in their worlds. COVID 19 threaten us, it changes us, and we won't be the same for quite awhile, if ever. But since the promise of God through Jesus still stands for us, when we come out we will be better and more faithful followers of Jesus.
Please stay safe. Don't take chances; this is not over yet, and Jesus wants all of us to not just survive, but to thrive and be alive with our faith and roles in proclaiming the Kingdom in this world.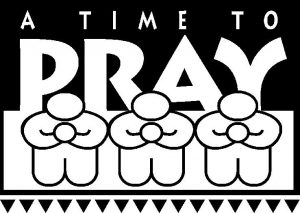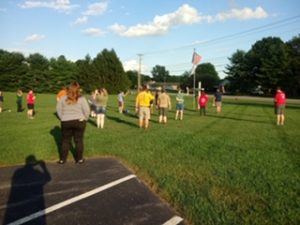 A very special THANK YOU to Boy Scout Troop 256 who has been helping with the weeding of our flower garden while our church building has been closed. After a recent weeding, they took the opportunity to recite the pledge around our flag pole! We appreciate all that they do!
A Statement from the ELCA
"The ELCA's social policy resolution, "Condemnation of White Supremacy and Racist Rhetoric," adopted by the 2019 ELCA Churchwide Assembly, states: "As persons called to love one another as God has loved us, we therefore proclaim our commitment to speak with one voice against racism and white supremacy. We stand with those who are targets of racist ideologies and actions." As church, together we must work to condemn white supremacy in all forms and recommit ourselves to confront and exorcize the sins of injustice, racism and white supremacy in church and society and within ourselves as individuals and households."
As stated on the ELCA's website. Click HERE for more information.
The mission of Grace Evangelical Lutheran Church is to live the Gospel of Jesus Christ and share God's good news with others with an emphasis on youth and families.

Verse of the Day
"Stand up and praise the LORD your God, who is from everlasting to everlasting. Blessed be your glorious name, and may it be exalted above all blessing and praise."
EMAIL
office@gracecolumbus.com
ADDRESS
8950 Refugee Road, Pickerington, OH 43147
: