Worship In-Person
With Us!
Greetings in the name of our risen Lord and Savior, Jesus Christ, Son of the Living God. We have resumed worshiping in person! You can attend worship in our sanctuary, at 11am. In an effort to protect our church family, anyone who is not fully vaccinated is asked to wear a mask at worship. This policy may or may not change at short notice based on changing CDC and ODOH guidelines.
If you cannot worship with us in person for any reason, please continue to worship with us virtually, by clicking here. The bulletin for this week's worship can be found on our info page so you can follow along. Also, if you miss the service but would like to read the sermon notes, they are available here: 08.07.22
In person worship is strictly for those who comfortable doing so. Please stay safe. Don't take chances; this is not over yet, and Jesus wants all of us to not just survive, but to thrive and be alive with our faith and roles in proclaiming the Kingdom in this world.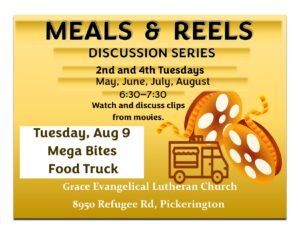 Every second and fourth Tuesday of the month, through August, we gather for food and fellowship! We have just started the movie, "Risen" and will be meeting again on August 9th. All are welcome to join us as we watch a portion of a movie, engage in thoughtful discussion, and share food. This week, we will be enjoying Mega Bites Food Truck! We begin at 6:30pm and end about 7:30pm. We hope to have you join us. ALL ARE WELCOME!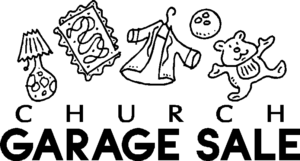 Grace will be having their highly anticipated, annual yard sale, 9am-3pm, August 26th &
27th! Home decor, tools, sport/workout equipment, kids/baby clothing and items, holiday
decor, adult clothes, household items, etc., all priced to sell! Lunch will also be available for
purchase. We hope to have you join us! Check out our Facebook page for updated pics!
The mission of Grace Evangelical Lutheran Church is to live the Gospel of Jesus Christ and share God's good news with others with an emphasis on youth and families.

Verse of the Day
"Since we are surrounded by such a great cloud of witnesses, let us throw off everything that hinders and the sin that so easily entangles, and let us run with perseverance the race marked out for us."
EMAIL
office@gracecolumbus.com
ADDRESS
8950 Refugee Road, Pickerington, OH 43147
: